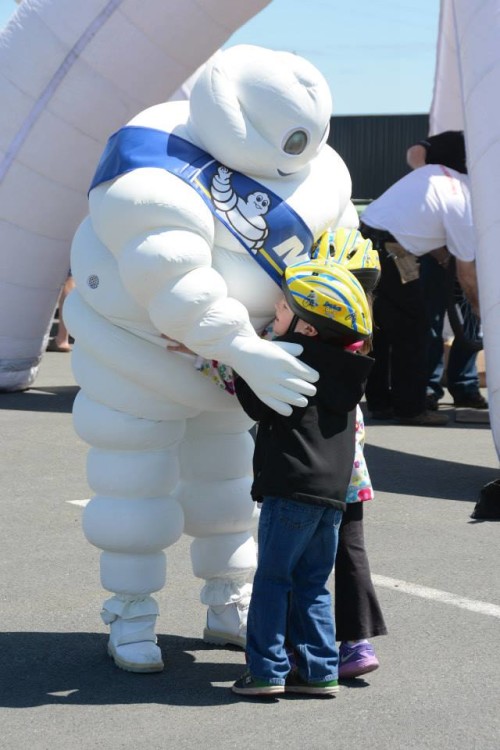 1. Do I have to pre-register my child(ren)?
Yes, space is limited and pre-registration online is required.
2. I'm not a Michelin employee. Can my child still participate?
Yes! Michelin Junior Bike is open to all children ages five - 11.
3. I've already pre-registered my child(ren). Why do I have to register again on event day?
All participants are asked to check in at the registration tent with their parent/guardian at which time they will receive a ballot for the prize draws, as well as receive important information for the day
4. Is the event held if it rains?
Yes, the event will go on rain or shine. In the event of rain please ensure your child is dressed appropriately.
5. I have a four year old that can ride a bike as well as a five year old can - can he/she participate?
The helmets we are providing to the children are CPSC approved for ages five and up. Unfortunately, children under the age of five will not be permitted to register or participate in the event.
6. What about my 12 year old?
Safety on the course is our primary consideration. At 12 years of age, children are generally faster and more coordinated on bicycles. To keep the course safer for the younger riders, we have kept the age limit at 11 years.
7. What if I can't show up at the start time?
Event check-in begins promptly at stated time, and all activities are scheduled to follow accordingly. Please do your best to be at the event site on time to avoid confusion and so your child is able to enjoy all aspects of the event.
8. Are the helmets CSA approved?
The helmets are CPSC approved which is the US set of standards comparable to Canada's CSA approval. CPSC stands for Consumer Products Safety Commission. This certification agency is recognized under Nova Scotia's Helmet Regulations.
Note: The helmets are approved for ages 5 - 11.
9. What is the garage tent?
All bikes will pass through the garage tent where local bike shop employees, along with volunteers from local cycling clubs, will check the brakes, tire pressure, seat height, etc. and do minor adjustments.
10. What safety measures will be in place during the group rides?
Pace bikes will lead riders around the track, to ensure a safe speed. In addition, spotters will be placed around the route and will be identified with their Junior Bike t-shirts.
11. What if my child gets hurt on the course?
Volunteers trained in first-aid will be on site in a designated medical tent.
12. Will each event stay within the time frame?
We do not foresee it going beyond the scheduled time and will do our best to keep it on schedule.
13. Why is Michelin putting on this event on?
Michelin is committed to road safety for all ages and all forms of transportation. Educating children and adults about bicycle safety - and in particular helmet safety - means safer road travel and is part of our commitment to helping people find a better way forward.